Paint by numbers инструкция
Paint by numbers generator
Generate paint by number images (vectorized with SVG) from any input image.
The CLI version is a self contained node application that does the conversion from arguments, for example:
You can change the settings in settings.json or optionally specify a specific settings.json with the -c path_to_settings.json argument.
The settings contain mostly the same settings in the web version:
randomSeed: the random seed to choose the initial starting points of the k-means clustering algorithm. This ensures that the same results are generated each time.
kMeansNrOfClusters: the number of colors to quantize the image to
kMeansMinDeltaDifference: the threshold delta distance of the k-means clustering to reach before stopping. Having a bigger value will speed up the clustering but may yield suboptimal clusters. Default 1
kMeansClusteringColorSpace: the color space to apply clustering in
kMeansColorRestrictions: Specify which colors should be used. An array of rgb values (as number array) or names of colors (reference to color aliases). If no colors are specified no restrictions are applied. Useful if you only have a few colors of paint on hand.
colorAliases: map of key/values where the keys are the color names and the values are the rgb colors (as number array). You can use the color names in the color restrictions above. The names are also mentioned in the output json that tells you how much % of the area is of that specific color. «colorAliases»:
removeFacetsSmallerThanNrOfPoints: removes any facets that are smaller than the given amount of pixels. Lowering the value will create more detailed results but might be much harder to actually paint due to their size.
removeFacetsFromLargeToSmall (true/false): largest to smallest will prevent boundaries from warping the shapes because the smaller facets act as border anchorpoints but can be considerably slower
maximumNumberOfFacets: if there are more facets than the given maximum number, keep removing the smallest facets until the limit is reached
nrOfTimesToHalveBorderSegments: reducing the amount of points in a border segment (using haar wavelet reduction) will smooth out the quadratic curve more but at a loss of detail. A segment (shared border with a facet) will always retain its start and end point.
narrowPixelStripCleanupRuns: narrow pixel cleanup removes strips of single pixel rows, which would make some facets have some borders segments that are way too narrow to be useful. The small facet removal can introduce new narrow pixel strips, so this is repeated in a few iterative runs.
resizeImageIfTooLarge (true/false): if true and the input image is larger than the given dimensions then it will be resized to fit but will maintain its ratio.
resizeImageWidth: width restriction
resizeImageHeight: height restriction
There are also output profiles that you can define to output the result to svg, png, jpg with specific settings, for example:
This defines 3 output profiles. The «full» profile shows labels, fills the facets and shows the borders with a 3x size multiplier, font size weight of 50, color of #333 and output to a png image. The bordersLabels profile outputs to a svg file without filling facets and jpgtest outputs to a jpg file with jpg quality setting of 80.
The CLI version also outputs a json file that gives more information about the palette, which colors are used and in what quantity, e.g.:
The CLI version is useful if you want to automate the process into your own scripts.
I used VSCode, which has built in typescript support. To debug it uses a tiny webserver to host the files on localhost.
To run do npm install to restore packages and then npm start to start the webserver
Compiling the cli version
Install pkg first if you don't have it yet npm install pkg -g . Then in the root folder run pkg . . This will generate the output for linux, windows and macos.
Источник
Скачать Paint by Number для ПК
Опубликовано Coloring puzzle games sp. z o.o.
Категория: Games
Дата выпуска: 2019-10-08
Текущая версия: 1.0
Размер файла: 52.96 MB
Совместимость: Требуется Windows 10/8.1/8/7/Vista
Paint by Number для ПК Скриншоты
загрузить и установить Paint by Number на вашем персональном компьютере и Mac
Некоторые приложения, например, те, которые вы ищете, доступны для Windows! Получите это ниже:
SN
заявка
Скачать
рецензия
Разработчик
1.
Paint Rio
Скачать
5/5
4 рецензия

Или следуйте инструкциям ниже для использования на ПК :
Если вы хотите установить и использовать Paint by Number на вашем ПК или Mac, вам нужно будет загрузить и установить эмулятор Desktop App для своего компьютера. Мы усердно работали, чтобы помочь вам понять, как использовать app для вашего компьютера в 4 простых шагах ниже:
Шаг 1: Загрузите эмулятор Android для ПК и Mac
Хорошо. Прежде всего. Если вы хотите использовать приложение на своем компьютере, сначала посетите магазин Mac или Windows AppStore и найдите либо приложение Bluestacks, либо Приложение Nox . Большинство учебных пособий в Интернете рекомендуют приложение Bluestacks, и у меня может возникнуть соблазн рекомендовать его, потому что вы с большей вероятностью сможете легко найти решения в Интернете, если у вас возникнут проблемы с использованием приложения Bluestacks на вашем компьютере. Вы можете загрузить программное обеспечение Bluestacks Pc или Mac here .
Шаг 2: установите эмулятор на ПК или Mac
Теперь, когда вы загрузили эмулятор по вашему выбору, перейдите в папку «Загрузка» на вашем компьютере, чтобы найти приложение эмулятора или Bluestacks.
Как только вы его нашли, щелкните его, чтобы установить приложение или exe на компьютер или компьютер Mac.
Теперь нажмите «Далее», чтобы принять лицензионное соглашение.
Чтобы правильно установить приложение, следуйте инструкциям на экране.
Если вы правильно это сделаете, приложение Emulator будет успешно установлено.
Шаг 3: Paint by Number для ПК — Windows 7/8 / 8.1 / 10
Теперь откройте приложение Emulator, которое вы установили, и найдите его панель поиска. Найдя его, введите Paint by Number в строке поиска и нажмите «Поиск». Нажмите на Paint by Numberзначок приложения. Окно Paint by Number в Play Маркете или магазине приложений, и он отобразит Store в вашем приложении эмулятора. Теперь нажмите кнопку «Установить» и, например, на устройстве iPhone или Android, ваше приложение начнет загрузку. Теперь мы все закончили.
Вы увидите значок под названием «Все приложения».
Нажмите на нее, и она перенесет вас на страницу, содержащую все установленные вами приложения.
Вы должны увидеть . Нажмите на нее и начните использовать приложение.
Шаг 4: Paint by Number для Mac OS
Привет. Пользователь Mac!
Шаги по использованию Paint by Number для Mac точно такие же, как для ОС Windows выше. Все, что вам нужно сделать, это установить Nox Application Emulator или Bluestack на вашем Macintosh. Вы можете получить Это здесь .
Спасибо за чтение этого урока. Хорошего дня!
Google play stats — Paint by Number
| Скачать | Разработчик | Рейтинг | Score | Текущая версия | Совместимость |
| --- | --- | --- | --- | --- | --- |
| Скачать Apk | Newque Tech Limited | 873,340 | 5 | 2.1.5.5 | Android 4.3+ |
Paint by Number На iTunes
| Скачать | Разработчик | Рейтинг | Score | Текущая версия | Взрослый рейтинг |
| --- | --- | --- | --- | --- | --- |
| Бесплатно На iTunes | Coloring puzzle games sp. z o.o. | 72 | 4.45833 | 1.0 | 4+ |
Paint by Number Особенности и описания
Get your new Paint by Number coloring book. Coloring has never been this easy. Let your stress go away!
Источник
Paint By Number 2.56.30
Paint By Number – прекрасное приложение, которое поможет снять стресс и расслабиться после трудного дня. Данный сервис отлично подойдет, как взрослым, так и более маленьким пользователям. Программа имеет сотни различных картинок, которые разбиты по категориям. Вам достаточно лишь выбрать необходимый раздел, открыть изображение и приступить к раскрашиванию.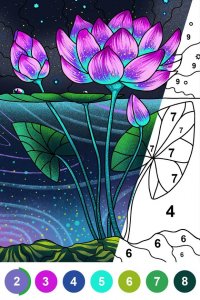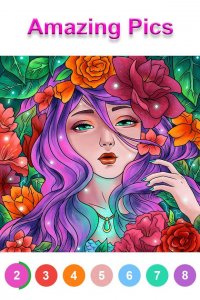 Картинки-антистресс пользуются неимоверной популярностью, поскольку реально помогают расслабиться и отдохнуть от насущных проблем. Покупать для этого книги и журналы нецелесообразно, поскольку это достаточно дорого. Но есть отличная альтернатива подобным бумажным изделиям — это приложение Paint By Number.
Суть данного сервиса проста, и ничем не отличается от книжного варианта такого антистресса. Перед вами предстает черно-белая картинка, где каждый фрагмент отмечен своим номером. В нижней части дисплея расположена цветовая гамма с указанием чисел. Ваша задача заключается в том, чтобы правильно сопоставлять номера с красками и отмечать это все на изображении.
Нажмите на тот цвет, который соответствует номеру на картинке, и ваша кисть окрасится в нужный оттенок. Далее просто отметьте все подходящие участки на изображении и в конце работы наслаждайтесь красивым пейзажем или видом необычного, яркого животного. Здесь представлено около 10 различных категорий, и в каждой по несколько десятков фоток. Выбирайте на свой вкус, и приступайте к росписи этой «живописи».
Для работы с данным сервисом не нужно иметь никаких специальных навыков или проходить обучение. Все просто и понятно. Берите в руки воображаемую кисть и начинайте творить свои шедевры, которыми можно поделиться с друзьями в социальных сетях или различных мессенджерах. Вы также сможете сохранять свои работы в память гаджета, и время от времени просматривать плоды личной деятельности для дальнейшего вдохновения.
Приложение Paint By Number является одним из самых популярных сервисов на интернет-просторах, и, несомненно, порадует вас своим разнообразием работ.
Изменения в последней версии
— Представляем вам новую версию с лучшим разрисовкой и большим количеством рисунков.
Источник
Paint By Numbers Tips & Tricks
There is no doubt if I say "painting is fun" but I would like to add that painting gives us focus as well as relief. Paint by number kits allow everyone to explore an artist in themselves. These kits allow you to paint professional paintings, artworks of great artists like Van Gogh, Da Vinci and Picasso yourself. If you want to be an artist, believe me it's never too late, you can start with these DIY painting kits. From the experience aka feedback of thousands of people who have done paint by numbers, you will never regret buying a painting by numbers kit.
"I Love Diy Art" has over 1000 paint by number kits and we have categorized for viewers ease. You can go to homepage and browse paint by numbers for adults. We also have paintings for kids in kids' collection. If you have done a few PBN's or cross stitch kits you should also check diamond painting kits we have recently launched.
Would you like an audio version of the post?
Alright, by now you already have a paint by number kit with you or you are waiting for one to arrive soon. Although painting with these kits is easy-peasy but everything has a way to go along right? First timers can still have problems with finishing their kit. We will now move on to part of the post you are here for.
Paint By numbers Tips and Tricks:
In these tips and tricks for paint by numbers, we would try to cover most of it you should know before you start. Which is A. Fulfilling the main purpose of painting B. Finishing the painting in a professional manner. C. Making sure you finish the painting without any disasters. Here are some pro tips you should keep in mind before you start your first paint by number.
Best Paint by Number Kits Picked For You
Start in Descending Order
The main point, while you are going to start painting, is that start your work in descending order. Descending order means to start work from a larger area and then move towards smaller areas. It will consume less time and it helps to prevent any accidental smudging.
Darkest First
The second important tip is that first use the darkest color in your canvas and then use lightest color. Mean move from dark to light in a sequence of color's effect. It will able you to understand the composition of colors in a better way. You can see how the colors affect one another. What is the impact of dark colors on the light one?
Corresponding the Number with Correct Color
It seems like an easy step but is important indeed. While painting, try to paint all areas that point towards the color in your hand. It will lessen your confusion regarding using color and there become a sequence of painting. When you finished all the parts then let it dry. Clean your brushes first then move towards other parts.
Covering the Numbers
To cover the numbers on a painting is important because it gives neatness to your painting. To do so coat the second layer of paint and let it dry. Do not rush your painting, and give plenty of drying time between colors.
Avoid Smudges
We often see that during painting suddenly our hand touch the painted area that is still wet, mess start over there. Your effort can be ruin due to small negligence. To avoid it first paint the topmost area of the canvas and then paint the lower area. Due to this precaution, chances of smudges reduce.
Close the Paint Cup
Close the paint cup when not in use to prevent them from drying. Otherwise, with open lid, the paint can be dry and it will be useless for you. While not necessary, you can cover your paint by number with the light coat of clear acrylic sealer.
Take Care of Brushes
If you have completed one, part and going to paint the other one then please wash the brushes first. After washing brush start a new part. It will help to give your canvas a fresh texture because no color is mixing with it. It is the original one.
Amount of Paint
Use enough paint to cover any area but be precise while painting. Your amount should be enough to cover the area but the color should not enter in the next part connected to your painted area. Do not over-use the paint or you can run out of paint and have to wait for a few days for new paint cups to arrive.
Take Time
If you want a good result of your effort than before applying let the previous one dry. The time taken by an area to dry depends on the thickness of application. So be patient and let the first part dry after it you can paint the other one.
Choice of a Workplace
The peaceful place is the best place to paint. In peace, we can concentrate in a better way and it helps to focus on the theme of the painting. Together with peaceful environment, the place should be bright and you should have the magnifying glass with you with painting so small area cannot neglect.
Have Fun
Follow all rules and tips but do not make it frustrated for you. Take it easy and try to invent new ideas as much as you can. Be creative with your canvas and have faith in yourself. With our paint by number kit you can unwind, fun, learn, and teach.
Continue Your Journey to Painting with Paint by Number Kits
At first we recommend to paint a simple, easier paint by number kits and when you are at ease with these, you can go on to order some more detailed paint by number kits.
Following this set of Paint by Numbers Tips and Tricks you should soon be on your way of creating stunning art pieces. Update your painting skills and discover the ins and outs of what it takes to be a truly great artist. Whether you are a budding artist or new to the world of colors, i am sure you love painting as do we.
Please leave comments if you have more tips for paint by numbers.
Источник