iCloud Activation Lock Bypass Tool
Fast to bypass iCloud activation lock on iPhone, iPad or iPod touch
Easy to remove different screen locks without getting stuck in activation lock
Hassle-free to turn off Find My [device] without password in seconds
Bypass iCloud Activation Lock Screen with No Password
Unable to remove activation lock screen on your iOS device? And forget Apple ID & password? Don't worry, fix this now!
Access to your iOS device
Use a new Apple ID
Not worry about iDevice tracking your location
No concern about the previous Apple ID user remotely erasing your device
Important — Please Note!
Once you bypass the activation screen lock using iSalvor, your iPhone/iPad/iPod touch will be jailbroken. You won't be able to make calls, use cellular data or access iCloud on your device; however, you will be able to use the device for other daily use purposes.
After bypassing, if you upgrade or flash your device, you will see the activation lock screen again. Nevertheless, you can use iSalvor on the same device multiple times to bypass the activation screen lock.
Remove Screen Lock & Avoid Activation Lock
Won't get an activation lock screen after removing screen locks.
Quickly unlock every type of screen lock though Find My [device] is enabled.
Prevent being tracked and blocked by the previous Apple ID.
On iOS 12 : after resetting your device, the activation lock will reappear.
On iOS 13 and later: you can access all features after unlocking.
Turn Off Find My [device] without Password
Turn off Find My iPhone without requiring any Apple ID or password.
Remove the previous Apple ID entirely and avoid being tracked by the previous owner.
Use your iPhone/iPad/iPod touch as brand new.
Enjoy all the iOS features and iCloud services without any restrictions.
Unlock Your iOS Device in 3 Simple Steps
See How Customers Think of Us
By Madeeha
A big thanks to the iSalvor team for bringing this software to life. I forgot my iCloud passcode and was locked out of the Activation Lock. I don't need to go to the Apple Store for help. Thank you again!
Yes, you read that right. In 3 quick steps and just in seconds, I was able to bypass the activation lock screen of my iPhone 7. Don't believe me? Try the software yourself and see; it's pure magic!
Honestly, I didn't expect the software to be so easy and efficient. Thanks to the iSalvor, I can use my iPhone X again.
Why Choose WooTechy iSalvor
iSalvor is a powerful tool that has more advantages than other programs or methods. Check the details below.
Please Note:
recently we have found some piracy removal tools that seriously infringed our copyright.
Bypass Activation Lock without Any Password
Remove Screen Locks without Activation Restrictions
Won't Be Blocked by The Previous Owner Any More After Restoring
24/7 Technical Customer Service
High Success Rate
Other Tools or Methods
Bypass Activation Lock with Password or IMEI
Unlock Screen Password But Restricted by Activation Lock
Blocked by the Original Apple ID If Restored with Third-party Tools
No Reply or Support
Low Success Rate
iSalvor
Bypass iCloud Activation Lock & Turn Off Find My iPhone
1,000,000 people have downloaded it.
1.What are the piracy removal tools in market?
Those piracy tools had a bad impact on our brand — WooTechy iSalvor, such as iBoss , MTool and iBypasser on Twitter. Any websites that copied from WooTechy official website are fake, please be alert to protect yourself from those scams. This is the only OFFICIAL WooTechy iSalvor websites: www.wootechy.com/bypass-activation-lock/.
2. Is there any difference between the 3 Modes that WooTechy iSalvor offers?
iSalvor has 3 modes of operation, including bypassing iCloud activation lock , removing screen lock & activation lock and turning off Find My feature.
Each mode supports different devices. And different available functions will be accessed after unlocking. Learn more about the diffrence here >>
3. Does iSalvor truly remove iPhone activation lock?
By using iSalvor, you can bypass the iCloud activation lock screen without password or previous Apple ID. So you can use a new Apple ID to login the iCloud account.
Please note that it does not remove the original Apple ID used on your device from the Apple servers themselves. If you can prove the device is yours (typically with a receipt), then Apple can remove that iCloud restriction for you.
4. Does iSalvor requires jailbreak to bypass iCloud activation lock or turn off Find My iPhone?
Yes, jailbreak is the prerequisite of bypassing iCloud activation lock and turning off Find My iPhone.
5. Can I use iSalvor on a Windows computer?
Yes. iSalvor is compatible with Windows 7 — 10 and it also works on macOS 10.13 — 10.15 (High Sierra through Catalina).
Hot Topics :
[Tutorial] Jailbreak iOS Devices on PC
Bypass Activation Lock with/without Jailbreak
[Tips] Bypass Activation Lock Without IMEI Number
Bypass Activation Lock When Apple ID is Disabled
How to Bypass Find My iPhone Activation Lock on iPad
Bypass iPhone Activation Lock with/without Hardware
3 Solutions on How to Activate iPhone without WiFi
How to Activate iPhone without SIM?
4 Ways to Bypass iPhone Activation Lock on Reddit
iPhone Activation Lock Required Bypass? Fix It Now
More >>
Copyright © 2021 WooTechy Technology Co., Limited.
All Rights Reserved.
Copyright©2021 wootechy.com. All rights reserved.
Disclamer: WooTechy'S SOFTWARE INTENDED FOR LEGAL USE ONLY. Bypassing iCloud activation lock on iPhone/iPad/iPod touch may go against the regulations of Apple company or Laws of your country or region. Violation of the law's requirements would be liable to severe monetary and criminal penalties. Please consult your own legal advisor for professional opinions on the legality of using this Licensed Software in the way you intend to use. You take full responsibility for downloading, installing, and using it. WooTechy shall not be responsible if you choose to bypass iCloud activation lock on a device without being permitted to; nor can WooTechy provide legal advice on the use of the bypassing software. All rights not expressly granted herein are reserved to and retained by WooTechy.
Источник
[Pros & Cons] Wootechy iSalvor Comprehensive Review: Is It Free & Safe?
It is very common for iDevice users to have a locked iPhone or iPad. To bypass the activation lock, you need an authentic tool that can make your work done. For this purpose, we have tried a tool that can unlock your device effectively. It is called Wootechy iSalvor. This article covers a comprehensive review of Wootechy iSalvor. This review covers everything you need to know about Wootechy iSalvor, including what it is, is it safe, its pros & cons, how to download it, and most importantly, an even better alternative to this tool. So, without further ado, let's dive into it!
Part 1. What is Wootechy iSalvor?
Wootechy iSalvor is an iCloud Activation Lock Bypass Tool. If you are unable to remove the lock screen of your iDevice, then you can always count on this software. It has 3 different unlocking modes that include:
1. Bypass iCloud Activation Lock Screen
2. Remove Screen Lock and Bypass Activation
3. Turn off Find My [Device]
You can easily download iSavlor from its official site and get started with the unlocking process after paying a small fee. This tool is easily accessible on all iDevices, including the iPhone, iPod, and iPad.
Part 2. Is Wootechy iSalvor Safe?
The most important thing to consider is how safe the software is that you are using. Most of the tools that we download directly from unknown websites have viruses, spyware, and bugs in them. These viruses can easily destroy your computer system by exploiting all your files and documents. Luckily, Wootechy iSalvor has its official website through which they guarantee that you are downloading 100% secure and safe software.
Part 3. Pros and Cons of Wootechy iSalvor
It is true that every tool comes with advantages and drawbacks. Just like that, iSalvor also has its own pros and cons. In this Wootechy iSalvor review, we will remain totally honest and deal with facts. Now, let's find out what these pros and cons are:
It is a fast software and can bypass the activation lock in your device very quickly and efficiently.
It is 3 in 1 as it includes three different modes, so you can access all of them in just a single tool.
It provides customer service that is 24/7 available for you.
After you unlock your device through this software, your device will be jailbroken.
It might happen that bypassing lock through this tool can go against the laws of the region you live in, making it a little bit risky to use.
It is not free and even a little expensive.
Part 4. How to Download Wootechy iSalvor and Use It?
You can easily download this software from the official website of Wootechy iSalvor. Make sure you are installing from the authentic link so that you can be safe and secured from different viruses. The process to make use of this tool is very straightforward, and any beginner can also do it without any hassle. For your convenience, we have also shared a step-by-step guide to use iSalvor.
1. The first and foremost step is to download and install Wootechy iSalvor on your computer system.
2. Once you have installed the program, open it, and wait for the main interface. Then, select the 'iCloud Activation Lock Screen' option from the main menu and click on the 'Start' button.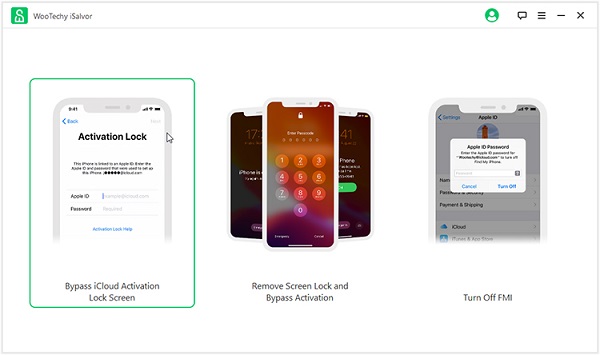 3. Now, you need to connect whichever device you wish to bypass your computer system with the help of a USB cable.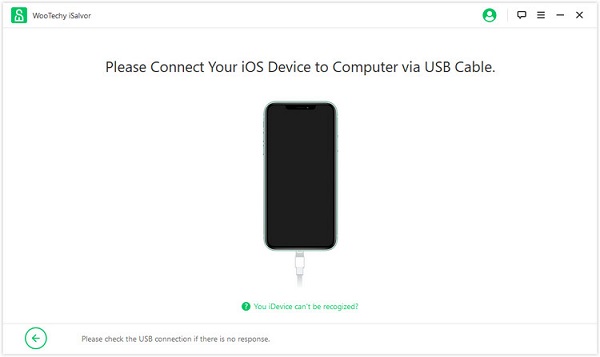 4. You can select the 'Jailbreak tutorial' option and follow the steps to jailbreak your device. Click 'Finished Jailbreak' when the process is finalized.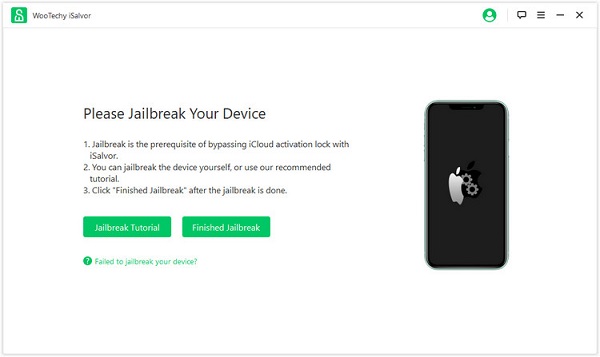 5. Now, you will be able to see your device's information on the screen. Here, click on the 'Start Bypass' option to initiate the bypassing process. The bypassing process may take a few minutes, just be patient, and wait until it's completed. As soon as the bypassing process is complete, click on the 'Done' button. This indicates that you have successfully bypassed the activation lock.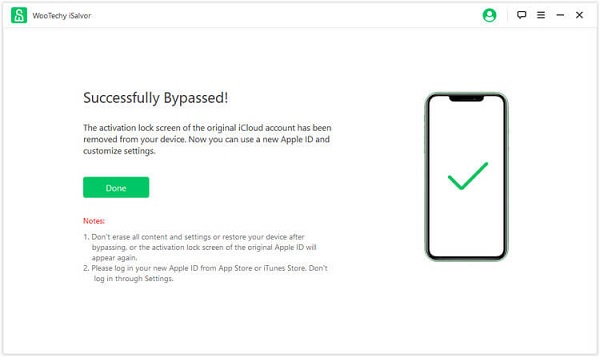 Part 5. Alternative to Wootechy iSalvor
There are many tools that can help you in bypassing the Activation Lock on your iDevice. But you should make sure that you always select the software that is safe, authentic, and efficient to use. Our first choice in this matter is PassFab Activation Unlocker. It is one of the best and most reliable software that you will ever come across. You can follow these instructions to make sure that you are using the tool in the correct way:
1. First of all, you have to download and install the PassFab Activation Unlocker on your PC/Mac. After installation, launch the program and wait until you see the main interface. Click Remove iCloud Activation Lock.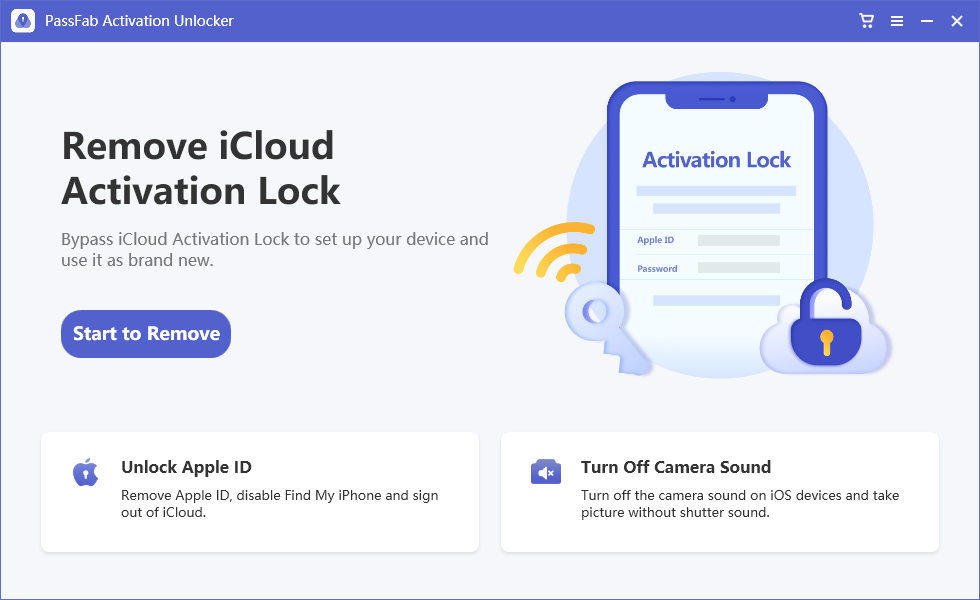 2. Then, click on the 'Start' option from the main interface to initiate the bypassing process.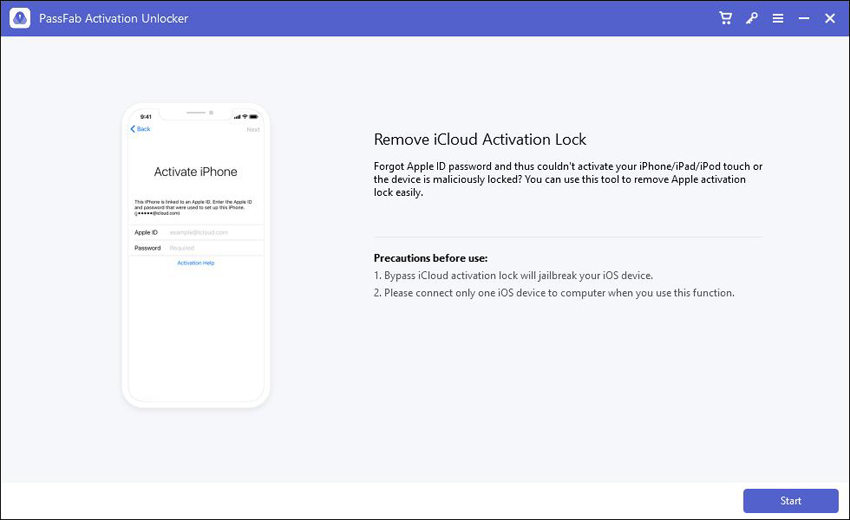 3. You will see an agreement on your screen. Read it cautiously and click the 'Next' button to continue. Now, connect your iDevice to your computer system with a USB cable. The software will detect the device automatically.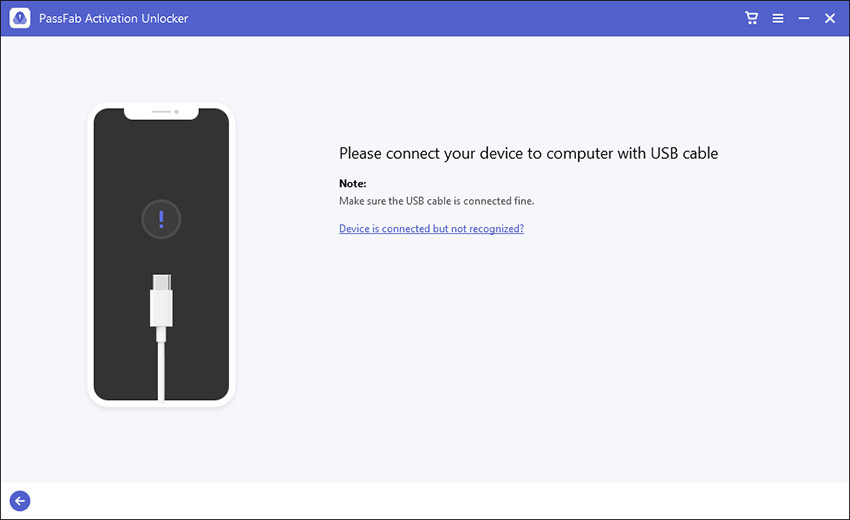 4. When your device is effectively connected, the software will start downloading a jailbreak tool. Then, click on the 'Start Jailbreak' button and follow the instructions given to start the jailbreaking of your device.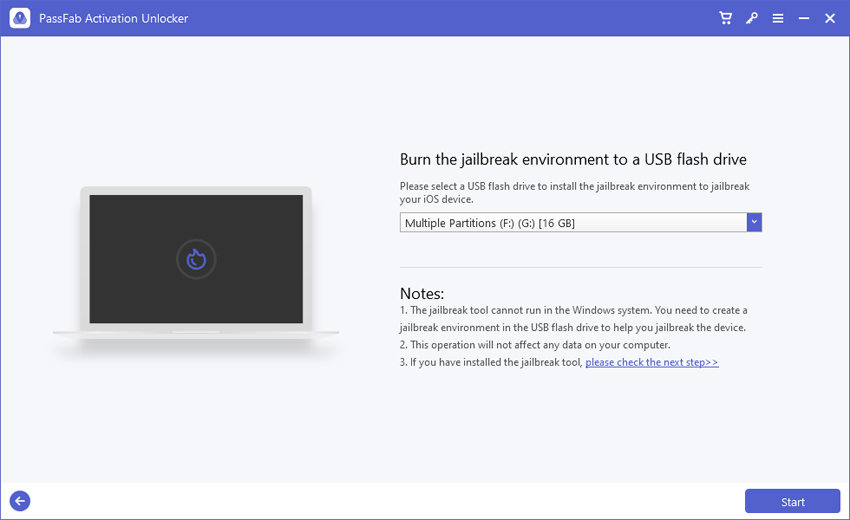 5. Once the jailbreaking process is complete, click on the 'Start Remove' button to eliminate your iCloud activation lock.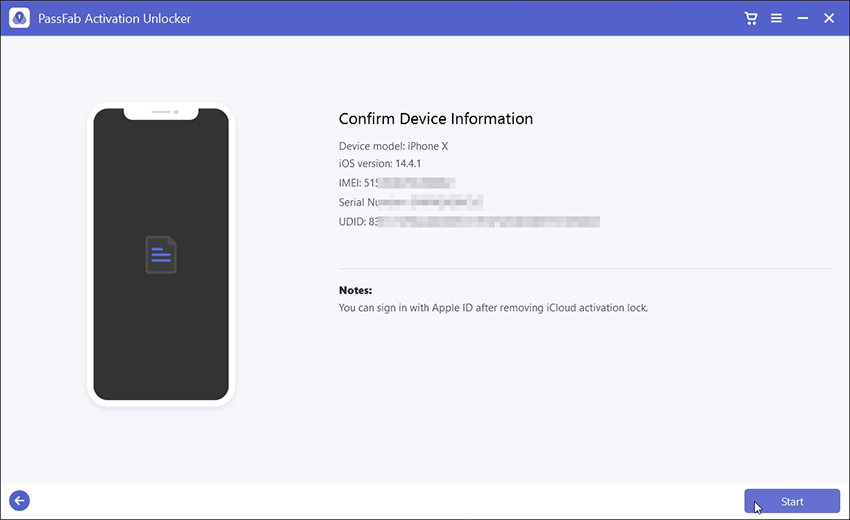 6. Congratulations! You have successfully removed iCloud activation lock. Just click on the 'Done' button to finalize the process.
Источник
How to Bypass iCloud Activation Lock for free
Activation Lock helps you keep your device protected, even if it's in the wrong hands, and also improves your probabilities of recovering it. In a case where you have erased your device remotely, this lock can continue to prevent anyone from reactivating your machine without your permission. What you need to do is to keep Find My [device] features turned on while remembering your Apple ID and password.
However, sometimes you buy a used device and end up needing help to bypass iCloud activation lock in order to use your device. Well, there are many paid tools to do the job, but the real question is, "how to bypass iCloud activation lock for free?"
In this Article:
Can you Bypass the Activation Lock for Free?
Bypass of the iCloud activation lock with the help of different free software can be easily done. Such programs may require your laptop/desktop and your phone. Below are some good options that you can use to remove your iCloudactivation lock.
Apple Support
Your first option is to request Apple to turn off Activation Lock for you. To do this procedure, visit a nearby Apple Store and take proof of purchase along with you to show that you are the rightful owner.
If you cannot prove yourself as a proprietor, the company will not help you since this could indicate that the device might be a stolen one.
To find out specific information about how Apple can help you, contact the company and explain your situation. Apple will guide you thoroughly on what to do.
Previous Owner's Help
If you have bought a used phone, then there might be a chance that your phone is attached to the previous owner's account. You will see the passcode screen if the device is not removed. If they are close by or you can reach them, you can ask them to input their Apple ID personally and the password; this will help the device to be removed from their account.
The steps include going to Settings > General > Reset > Erase All Content and Settings.
What if the previous owner forgets their password?
The original owner can reset the password if they have forgotten it. However, remembering their Apple ID, in this case, is a must.
The Apple ID is the account that an Apple user uses for everything they do with Apple, for example, when they shop in the iTunes Store, sign in to iCloud or buy an app, etc. To reset their password, a user needs to know the email address of their Apple ID.
1. Go to the site https://iforgot.apple.com/password/verify/appleid.
2. Enter the required Apple ID.
3. Select a suitable option to reset the password.
4. Choose the reset method for the password as given:
By answering the security questions
To reset it through email
To reset it utilizing the two-factor process of authentication
5. Follow the instructions given on the screen to complete the reset
DNSBypass Method
DNS stands for Domain Name Server, and the principal aim of this method is to convert your domains into different IP addresses. As you type a domain name in the browser, the DNS server will take you to the web's concerning IP address. When you try activating your iPhone, your iPhone will connect with the DNS and then reach the Apple servers.
In a way, you can get some third-party domain name servers that will be taking your iPhone to another server instead of somewhere else. The server will help in the activation of your iCloud.
In simpler words, rather than getting in contact with the Apple servers, your iPhone will connect to specified servers specially designed to bypass your device from the activation lock. The technique locates and uses a loophole in the device settings, especially the WiFi DNS settings, and makes your device think it is now unlocked.
You need to follow these steps to get your iPhone unlocked.
Turn on the device and select a language and a country from the options available for you.
On the WiFi network page, connect to the network and select the option ".i." present next to the WiFi network name mention, and it will open the details page.
On the screen, select the option saying Configure DNS, and it would add customized DNS to your iPhone.
Choose the Manual at the top and select the DNS servers in the input field. Select the DNS server applying to your region.
Do not proceed with the screen prompt. Go back again and choose the DNS server screen and configure the options present.
Note: There is no guarantee that the technique will work, and it is not compatible with all iPhone models, especially the latest versions. Also, you need at least 80% battery to run the procedure.
The Doulci Activator
A DoulCi Activator is a free software designed to bypass the iCloud activation lock. Creating a mirror server via iTunes, the tool uses a weak point in Apple's security with the help of iTunes. The DoulCi iCloud bypass tool does not require technical knowledge, making it a safe and useful tool capable of bypassing the iCloud activation lock with a high success rate.
Now, let's check out the positive features of the DoulCi Activator tool.
This tool is available for free download and is a legit tool to bypass iCloud lock.
Works on all iPhone models.
The latest updates also work with the latest iOS version.
Incredibly easy-to-use.
The website provides support with tutorials.
Download process of DoulCi Activator
Step-1:Download the Doulci application on your desktop.
Step-2:Open the application and put in the activation code (already provided with the download)
Step-3:You will see the welcome page, where it will introduce you to the product, click 'Next.'
Step-4:On the next page, it will ask you to disconnect any apple device so it can install the software. Once it gets installed, you will run the application and put on the serial just like before and click 'NEXT,' click FINISH to run the process.
Step by step process of DoulCi Activator
Step-1:The software will ask you to plug in your device to start doing the bypass.
Step-2:After this, the software will ask you to select your iPhone model and your IOS version.
Step-3:Write the serial number already provided with the download and click AUTHORIZE iDevice; your process will start.
Step-4:Wait for 5 minutes or so; a bar will be showing the progress.
Soon as the bar reaches it's full, you will see your device unlocked as new.
How about a bonus round?
WooTechy iSalvor Bypass Tool
WooTechy iSalvor is a speedy and practical bypass tool for removing the activation lock from your iPhone. The tool leverages the iOS DFU mode technology to restore the locked iCloud device to an operating condition. Supporting an appealing visual user-interface, its feature and options are neatly laid out to see and use to get the job done quickly and easily.
Being safe while ensuring 100% results with lifetime access, Wootechy iSalvor iCloud bypass tool is used by thousands of people worldwide to unlock their iOS devices.
This beginner-friendly and easy-to-use tool is a paid tool, so there are no irritating ads or other hindrances that you can use for free on trial. Yes, you read that right,
Step by step process of WooTechy iSalvor
Step 1
Simply download the program on your desktop, open and choose the mode "iCloud Activation Lock Screen" on your screen. Through bypass the iCloud activation lock screen mode on WooTechy iSalvor, you can easily remove the activation lock.
Step 2
Now, connect your iDevice with the desktop using a lightning table. If not correctly connected, check the "Your iDevice can't be Recognized" for more details.
Step 3
You will have to jailbreak your iDevice before using the tool for bypass. Download the package and click the "Start Jailbreak" option. Proceed to choose the instructions and click "Next" to continue. Then click "Finish Jailbreak" to end the process.
Step 4
Next, you will go through the information of your iPhone or iPad appearing on your screen. See your device model, IMEI, iOS version, UDID, and serial number before initiating the bypass process. Now click the "Start Bypass" option.
Now, the bypassing process of the Apple activation lock screen will start in a couple of seconds and will take only a few seconds to complete. As soon as the process of the WooTechy iSalvor finishes, it would display the results on the desktop screen, meaning that the lock screen is bypassed successfully. Now, choose the "Done" option to complete the process. It is this much easy!
As the process is completed, you can access all the features, including iTunes ID, Apple ID, Apple Store, among others.
The steps are simple compared to the other bypass software programs, which require a lot of technique and complicated steps. WooTechy team provides you high compatibility at low prices. The tool works for the iOS 13 version and above and lets you bypass the activation lock without any passwords.
Bypass iCloud Activation Lock For Free
Activation Locks are basically a security add-on, and removal of these locks is usually challenging to be done.
However, if you have bought a used phone and it is still connected to the previous owner's ID, you don't have to worry as we have presented you with plenty of excellent options to bypass iCloud activation lock for free.
Источник
Как обойти активацию iCloud: 6 лучших инструментов для обхода блокировки iCloud
Устройства Apple оснащены самой надежной системой безопасности, и блокировка активации iCloud — одна из самых удивительных функций. Однако в какой-то момент любой пользователь может столкнуться с проблемами активации блокировки на своих устройствах Apple.
Чаще всего это происходит, когда люди покупают телефоны через интернет, например на eBay или Amazon, через Авито или с рук. Возможно, что вы уже даже сталкивались с такой потребностью и даже искали десятки видео в Интернете, чтобы найти реально работающий способ снять блокировку активации для iCloud, но ваши попытки, скорее всего, были безуспешны. Однако у каждой ситуации есть решение, и чтобы решить эту проблему, вы можете использовать инструмент обхода активации iCloud.
В этой статье описано шесть возможных решений ваших проблем с активацией iCloud. Итак, давайте начнем и найдем лучший инструмент для обхода активации iCloud.
1. Инструмент для разблокировки Doulci
DoulCi — это бесплатный инструмент обхода iCloud, предназначенный для обхода блокировки активации iCloud. Он создает зеркальный сервер с помощью iTunes. Разработчики DoulCi нашли "дыру" в механизме безопасности iOS через iTunes и использовали ее для создания эффективного инструмента обхода для активации блокировки iCloud.
♣ Это законный инструмент для обхода блокировки iCloud.
♣ Доступна бесплатная загрузка.
♣ Совместимость со всеми моделями iPhone.
♣ Его последние обновления могут работать с последней версией iOS.
♣ Веб-сайт предоставляет невероятную поддержку с обучающими материалами.
♣ Этот инструмент обхода активации iCloud работает только онлайн.
♣ Для загрузки пользователям необходим реестр, чтобы они могли использовать резервное копирование данных в Интернете или частный сервер. В этом случае его можно скачать напрямую.
♣ Это не инструмент пользовательского интерфейса. Вы запускаете его на своем собственном сервере обхода iCloud.
♣ Вы можете загрузить инструмент после завершения опроса.
Как работает DoulCi, неизвестно. Создатель сайта пояснил, что если об этом станет известно, хакеры могут создать свой собственный инструмент, используя ту же процедуру, но с вредоносным кодом.
Это понятно, потому что такие инструменты представляют угрозу безопасности данных устройства, и сотни устройств iPhone окажутся под угрозой, если они станут достоянием общественности. Инструмент обхода DoulCi iCloud не требует технических знаний и требует простых шагов для его использования.
Итак, теперь вы знаете, как бесплатно обойти блокировку активации iCloud.
2. WooTechy iSalvor Bypass Tool
WooTechy iSalvor — лучший инструмент обхода активации iCloud, который помогает пользователю устранить блокировку активации на устройствах iCloud. Имеет привлекательный визуальный пользовательский интерфейс. Все его параметры и функции аккуратно разложены, чтобы их можно было легко и быстро найти и выполнить.
iSalvor использует режим iOS DFU для восстановления заблокированного устройства iCloud в нормальное рабочее состояние. Разработчики предлагают информацию и отличную поддержку по использованию инструмента для обхода блокировки iCloud.
Как активировать iCloud с помощью WooTechy iSalvor Bypass Tool?
Этот инструмент обхода активации iCloud имеет простую процедуру.
♣ После установки нажмите кнопку «Пуск», чтобы начать. Рекомендуется использовать официальный кабель Lightning для стабильной передачи данных во время процесса.
♣ Подключите устройство iOS к ПК. Как только инструмент обнаружит устройство, следуйте инструкциям, которые появляются во всплывающем окне.
♣ Исходя из технических характеристик устройства, инструмент загружает в систему пакет для взлома, чтобы обойти блокировку активации.
♣ После завершения загрузки нажмите «Начать джейлбрейк», а затем выполните следующие действия, чтобы войти в режим DFU.
♣ Наконец, iSalvor просит проверить данные устройства, а затем инициирует процесс разблокировки, щелкнув «Начать обход».
♣ Его загрузка и установка на 100% безопасны.
♣ Инструмент обхода iCloud имеет высокий уровень успеха.
♣ Предлагается 30-дневная гарантия возврата денег.
♣ Инструмент удобен для новичков и прост в использовании.
♣ Не нужно покупать новые версии; он дает пожизненные обновления.
♣ Его использование и настройка довольно просты.
♣ Доступны отличные обучающие программы и поддержка.
♣ Он постоянно обходит блокировку iCloud и активирует устройство.
♣ Нет необходимости переносить данные, так как никакие данные, такие как сообщения, контакты, видео и фотографии, не будут потеряны во время процесса удаления блокировки iCloud.
♣ Некоторые старые версии iOS не поддерживаются.
Использование этого инструмента обхода активации iCloud означает, что вы можете использовать устройство iOS в качестве нового старта и изменять его без каких-либо ограничений или проблем, поскольку вы применили эффективный метод. Тысячи людей во всем мире разблокируют свои устройства iOS с помощью инструмента обхода Wootechy iSalvor iCloud, поскольку он безопасен и обеспечивает 100% результаты при пожизненном доступе.
3. Разблокировка AppleiPhone
Этот инструмент обхода iCloud удаляет учетную запись iCloud и блокировку iPhone у оператора связи и совместим со всеми моделями iPhone. Этот инструмент обхода активации iCloud навсегда разблокирует устройство, что означает, что устройство не может быть заблокировано снова.
♣ Ваше устройство будет разблокировано в течение 24 часов.
♣ Не требуется загрузка программного обеспечения.
♣ Они предлагают службу поддержки по воздуху для разблокировки устройства.
♣ Предлагают разлочить все модели iPhone.
♣ Сторонние установки или взлом не требуются.
♣ Перед использованием инструмента подтвердите статус устройства в iCloud. Вы не можете воспользоваться услугой, если заявлено, что оно утеряно или украдено.
♣ Компания не сообщила, являются ли они официальным партнером Apple.
У них очень простая процедура разблокировки iCloud. Сначала посетите веб-страницу разблокировки активации iCloud. Затем выберите модель, введя номер IMEI устройства. Наконец, нажмите «Снять блокировку активации» и оплатите сервисный сбор.
После снятия блокировки вы можете настроить новую или другую учетную запись iCloud, чтобы пользоваться всеми функциями Apple на устройстве iOS. Процесс разблокировки основан на номере IMEI, который является уникальным номером для идентификации вашего телефона. Этот инструмент обхода iCloud заносит в белый список IMEI из базы данных Apple, чтобы снять блокировку с заблокированного устройства Apple.
4. Средство обхода активации iCloud версии 1.4.
Это сторонний инструмент для снятия блокировки активации iCloud. Этот инструмент обхода iCloud позволяет изменять, удалять или создавать новую учетную запись на различных заблокированных устройствах iOS. Этот инструмент представляет собой комбинацию прокси и используемого программного обеспечения. В настоящее время инструмент обхода активации iCloud доступен в бесплатной версии для устройств iOS.
♣ Совместимость со всеми моделями iOS.
♣ Этот инструмент снимает все ограничения, которые блокировка iCloud накладывает на устройство iOS.
♣ Это совершенно бесплатно.
♣ Позволяет разблокировать только два устройства.
♣ Низкая вероятность успеха.
♣ Нет официального сайта для загрузки по надежной ссылке.
♣ Угрозы безопасности, так как многие пользователи скачивают поддельные или пиратские версии.
Пользователи могут быстро отключить существующую учетную запись iCloud с помощью этой программы, чтобы получить к ней доступ или войти в систему с другой учетной записью. Официальной ссылки для загрузки этого инструмента нет, так как нет официального веб-сайта для iCloud Activation Bypass Tool версии 1.4. Вы можете скачать этот инструмент с любого онлайн-сервера.
Однако многие веб-сайты предоставляют бесплатные ссылки для скачивания, которые могут содержать вредоносные программы или вирусы. Единственный вариант — загрузить ссылку с веб-сайта, которому вы доверяете, и использовать этот инструмент обхода iCloud. Таким образом, этот продукт не рекомендуется.
5. CheckM8
Это программный инструмент обхода iCloud, специально запрограммированный для обхода блокировки активации устройств iCloud. Он имеет процесс обхода одним щелчком мыши. Он поддерживает все модели от iPhone 5s до iPhone X.
Чтобы получить полный доступ к файловой системе iOS, вам понадобится джейлбрейк, чтобы обойти блокировку активации iCloud. Обычно это делается с помощью патчей ядра iOS. Джейлбрейк обеспечивает root-доступ к iOS, что позволяет устанавливать приложения.
Просто скачайте и запустите инструмент обхода активации checkm8 iCloud, и устройство будет успешно разблокировано в течение нескольких минут.
♣ Использование очень простое.
♣ Дальнейшие обновления инструмента будут бесплатными.
♣ Подключается и работает быстро.
♣ Есть обучающая поддержка.
♣ Многоразовое программное обеспечение.
♣ Требует взлом iOS для обхода блокировки iCloud.
♣ Не совместим со всеми моделями iPhone и iPad.
♣ После использования Checkm8 некоторые функции, такие как FaceTime, подключение к мобильной передаче данных, текстовые сообщения или кнопки, могут не работать.
♣ Вы не можете добавить свой Apple ID в настройках устройства iOS.
♣ Доступна только версия для Mac.
♣ Рейтинг очень низкий.
Учитывая количество функций iOS, к которым вы не получаете доступ после обхода блокировки, этот бесплатный инструмент для разблокировки iCloud не рекомендуется. Использовать программу слишком рискованно и она накладывает длинный список ограничений на устройства iOS.
6. OpenMyiCloud
Инструмент обхода активации iCloud, также известный как OpenMyiCloud Easy Unlock Tool, используется для снятия блокировок активации iCloud. Его можно использовать бесплатно, отключение блокировки iPhone занимает 15 минут. Установите инструмент на свой компьютер и подключите iPhone. Затем запустите программное обеспечение, которое обойдет сервер iCloud, чтобы преодолеть барьер блокировки активации.
OpenMyiCloud использует IMEI устройства iOS для обхода блокировки активации iCloud. Он подключается к частному серверу, который генерирует токен для получения доступа к учетной записи iCloud с паролем идентификатора.
♣ Программа проста в использовании.
♣ Можно использовать для нескольких целей.
♣ К ней прилагается учебное пособие, которое поможет пользователю эффективно ее использовать.
♣ Работает только от iPhone 7 до iPhone 9.
♣ Иногда загрузка очень медленная.
♣ Доступен только вариант загрузки для Windows.
♣ Разблокировка занимает немного больше времени.
♣ Несмотря на разблокировку iCloud, пользователи не получили хорошей оценки.
Некоторые пользователи жалуются, что при загрузке этого бесплатного инструмента для разблокировки iCloud вы переходите по другим ссылкам, а окончательный файл пуст. Анализируя это, а также все плюсы и минусы, мы можем сказать, что это не очень надежное программное обеспечение, и лучше поискать альтернативный инструмент обхода активации iCloud.
Мы подробно обсудили различные аспекты шести инструментов обхода активации iCloud и представили краткий обзор каждого из них.
Если вам нужен надежный инструмент обхода активации iCloud, мы рекомендуем вам использовать WooTechy iSalvor. Это надежный и очень полезный инструмент, позволяющий легко обойти блокировку активации iCloud. Если вы забыли пароль или телефон заблокирован по соображениям безопасности, он разблокирует устройство iCloud в любой ситуации.
Источник