HonShoop Water Drawing Mat, Aqua Doodle Mat 40 X 32 Inches, Mess-Free Large
Характеристики HonShoop Water Drawing Mat, Aqua Doodle Mat 40 X 32 Inches, Mess-Free Large
Купить HonShoop Water Drawing Mat, Aqua Doodle Mat 40 X 32 Inches, Mess-Free Large из категории Другие детские рисунок и живопись в разделе Рисунок и живопись из каталога Детские Поделки с доставкой в Россию, Казахстан, Беларусь, Украину, Молдову, Армению, Азербайджан, Грузию и другие страны на уникальных условиях сервиса E-Pard: гарантия доставки, страхование посылки, единый тариф, никаких скрытых расходов. Сравните цены в европейских магазинах и выберите лучший вариант. Сэкономьте деньги — купите нужный товар у иностранного продавца, сделайте это с доставкой в любой город и населённый пункт.
Описание HonShoop Water Drawing Mat, Aqua Doodle Mat 40 X 32 Inches, Mess-Free Large
HonShoop Water Drawing Mat, Aqua Doodle Mat 40 X 32 Inches, Mess-Free Large
Larger Drawing Area for Family Interaction — The whole size of our magic doodle mat is 40*31.5 inches, and the valid drawing area is 30*21.5inches, large enough for parents and kids to spend quality time on drawing together. Also it can be folded into the compact size, makes it portable for indoor outdoor and travel.
(2021 New Version)More Accessories to Get Everybody Involved — Our doodle mat for toddlers is equipped with 1x brush pot, 1x wheel stamp, 4x blue stamps, 1x drawing booklet, 4x blue stencils with shape, 4x red dinosaur drawing templates, 5x magic pens with different sizes of nibs, let your kids doodle freely with their friends and parents to share their happiness.
100% Kids-Safe&Mess-free — Made of non-toxic and soft material, our water drawing mat is 100% safe for kids. The front of the water mat for kids is covered with the soft warp knitted rain-coat fabric, the back is made of water-resistant nylon material. No worry about wetting or messing the floor, and get rid the worry of colored pencil and crayon marks all over the walls or furniture
Ideal Gift as Educational Toy — Not only a toy but also a communicative link between you and Kids. Toddlers can spend hours on drawing whatever they like without wasting paper and pencil. Decorated with colorful letters and cartoon animals, our water coloring mat is designed to inspire kids' imagination and creativity, driving kids of any age to grow their drawing ability, hand-eye coordination and color discrimination
Reusable&Easy to Use — Fill the magic pen with clean water and draw on the magic drawing mat. The doodle needs 10-15 minutes to disappear automatically,kids can draw on water doodle mat again and again. Kindly noted: 1. Please immerse the pen into the water for 1 hour before the first use; 2. Please use pure water without dust otherwise it may leave stains; 3. If there is a water ring on the mat, use the hairdryer to make it disappear
We offer FREE shipping on all orders!
We ship within Three business days of payment, usually sooner.
We use a selection of shipping services such as UPS, FedEx, USPS etc.
We only ship to the lower 48 states, no APO/FPO addresses or PO Boxes allowed.
Local pickups and combined shipping options are not provided at this time.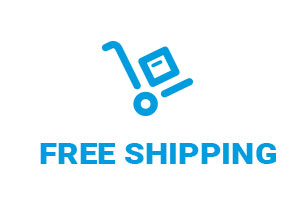 You can return a product for up to 30 days from the date you purchased it.
Any product you return must be in the same condition you received it and in the original packaging. Please keep the receipt.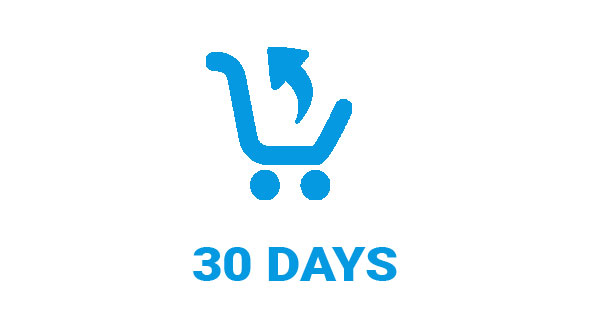 We accept payment by any of the following methods:
PayPal
Please pay as soon as possible after winning an auction, as that will allow us to post your item to you sooner!
Customer satisfaction is very important to us.
If you have any problem with your order, please contact us and we will do our best to make you satisfied.

If you have any queries, please contact us via ebay. We usually respond within 24 hours on weekdays.
Источник
Коврик для рисования Dropro Water Doodle Mini Mat HM3802
Код товара: 520625
7,14 € / шт.
Свойства изделия
| | |
| --- | --- |
| Тип продукта | Доски для рисования |
| Бренд | – |
| Развивающие способности | Воображение, Моторика, Чтение, счет |
| Длина | 57 см |
| Высота | 48 см |
| Материал | Пластик |
| Рекомендуемый возраст от | 3 г. |
| Предупреждение об игрушках | Не предназначен для детей младше трех лет., Перед тем, как дать игрушку ребенку, снимите всю упаковку и удалите детали крепления. Рекомендуем сохранить информацию на упаковке. Рекомендуется использовать под присмотром взрослых. Может содержать мелкие или острые детали, которыми ребенок может подавиться или травмироваться. |
| Гарантия | 24 месяц |
| Дополнительная информация | Включает: доску, 1 специальный карандаш, инструкцию. Рисунок исчезает, ковер высыхает. |
Rotaļu paklājs bērniem no 3 gadu vecuma. Paredzēts zīmēšanai — komplektā iekļauti dažādu formu paraugi, kurus bērns var mācīties pārzīmēt un attīstīt savu roku veiklību un vizuālo uztveri. Speciālo flomasteru piepilda ar ūdeni un var zīmēt 4 krāsās — sarkanā, zilā, zaļā vai lillā. Nekādas tintes, absolūti drošs bērniem. Zīmējums pēc laika izgaist pats. Paklāja izmērs 48×57 cm.
Заметили ошибку в описании товара, таблице свойств или фотогалерее? Сообщите нам
Источник
Best Water Doodle Drawing Mats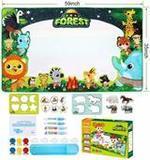 If you're looking for a water doodle mat for group play, this jumbo-sized model is a solid choice. One of the largest water doodle mats currently on the market.
Large size easily accommodates multiple children. Stunning baby forest-animal border stands out from the crowd. Comes with a variety of art accessories, including markers, shapes, drawing booklet, and more. Suction cups prevent bunching. Sturdy construction.
Requires quite a bit of space. Sprawling border graphics use up more of the drawing surface than necessary.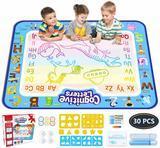 A well-constructed water doodle mat with a slimmer-than-average border. Thoughtful design maximizes the drawing surface without sacrificing aesthetics.
Generous dimensions and a streamlined border leave more space for creative expression. Alphabet theme promotes learning. Suction cups can be used to hang the mat up or to prevent shifting on hard floors. Comes with drawing and painting tools, a design booklet, and handy storage case. Nontoxic construction.
Stencils don't fit in the storage case. Markers are on the thin side.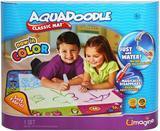 If you're looking for reliable quality, the original AquaDoodle Mat is a safe bet. Smaller than others on our list and somewhat pricey, but the quality is excellent.
Thick, sturdy, and durable. 4 quadrants produce 4 different colors. Colors are vibrant and lines come out nice and clear. Compact size is ideal for tabletop or floor use. Cute alphabet border makes it easy for little ones to practice their writing skills. Comes with a pen for out-of-the-box use.
Expensive. Scant accessories compared to our other picks.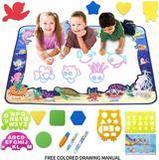 This water doodle mat packs an extra learning punch with number, letter, and shape stencils. A top choice for parents looking to reinforce early learning basics.
Educational accessories make for a fun-filled introduction to numbers, letters, and shapes. Good size with room for two to play comfortably. Produces clear lines. Material feels reasonably sturdy. Alphabet border doesn't take up too much space. Includes accessories and a drawing guide.
Roller stamps don't work perfectly. No suction cups.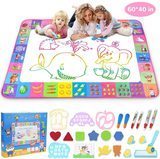 A large, portable water doodle mat capable of accommodating 3 kids.
The mat itself is reasonably thick and quite sturdy. Colorful alphabet border aids letter recognition and invites copying. Comes with a generous set of accessories, including pens, stencils, stamps, rollers, and a drawing booklet. ASTM approved.
Some had issues with the drawing not disappearing after 10 minutes as advertised.
We purchase every product we review with our own funds — we never accept anything from product manufacturers.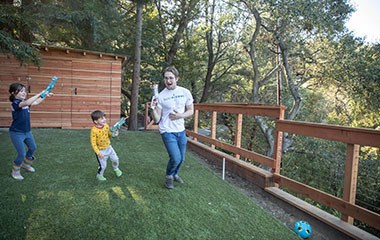 We purchase every product we review with our own funds — we never accept anything from product manufacturers.
Table of Contents
Buying guide for best water doodle drawing mats
Coloring is a beloved pastime that lets kids explore their creativity. It's not only fun but also educational and constructive, as it helps kids learn colors, spatial concepts, and even shapes. Plenty of parents will agree that coloring books fill up fast, and single works of art often turn into murals and collages on the refrigerator and wall.
To save paper and eliminate the potential for mess, consider investing in a water doodle drawing mat. These large canvases invite kids to color, draw, or trace with "magic" pens that are activated by water. Simply fill the pen with water and let the tip soak for a couple minutes — then it's time to color. If kids decide they want a fresh canvas for a new drawing, they only need to wait around 10 minutes for the first image to dry and disappear.
If you think your child would enjoy a water doodle drawing mat, we invite you to keep reading. In this guide, we share an overview of features, some helpful tips, and product recommendations so your little artist can get right to work.

Why parents love water doodle drawing mats
Mess-free
Art is a fun, creative way kids can play and express themselves, but let's be honest: it's not the tidiest pastime. Paint pots can spill, crayons can shed wax bits, and markers can leave hard-to-remove stains on clothing and furniture.
Water doodle drawing mats remove mess from the equation. Kids color freely while parents remain stress-free. The magic pens only work when filled with water and applied to the mat. As such, they don't deposit or leak color. The only mess you can expect to encounter with a water doodle drawing mat is the occasional water spill.
Safety
Well-made water doodle drawing mats are designed to be as safe as possible for kids. The mats and pens are non-toxic, and because the pens are filled only with water, they won't cause allergic reactions to the skin or eyes.
Pens and mats are generally oversized, minimizing the choking hazard. That said, you'll notice that water doodle drawing mats vary in design based on age group. The younger the intended age, the larger the pens and accessories will be.
Many water doodle drawing mats meet stringent safety standards for toys. Those marked with the ASTM emblem have volunteered to undergo rigorous testing to ensure a high level of safety. Others are marked with EN 71, which indicates that the product meets strict safety standards to qualify for sale in the European Union. Those designated as CE-certified meet the European Union's health and safety standards regarding design, flammability, hygiene, and radioactivity.
Portability
Water doodle drawing mats are highly portable, making them ideal for use during travel. As the mats are relatively thin, it's easy to roll or fold them up to fit into bags. Some even come with a carrying case.
Another reason water doodle drawing mats are ideal for travel: only one pen is required for coloring. Traditional coloring requires a variety of crayons or colored pencils, which are undoubtedly hard to keep track of — and often end up lost.
Side-by-side play
Water doodle drawing mats are often large enough for several kids to work together on a project. The mats may be used by parents and therapists of children with special needs. Not only can they be used to introduce kids to side-by-side play, the mats can also be used for lessons and occupational therapy.
Parts of a water doodle drawing mat
Magic pens
Magic pens resemble oversized markers with pronounced felt or brush tips. As they're water activated, you'll need to unscrew them and fill the reservoir with tap water. It's recommended to let water saturate the tip for two to five minutes prior to coloring.
Doodle mats
Doodle mats are usually designed with wide, themed borders featuring pictures of animals, characters, or other kid-friendly images. The canvas consists of a central white area that reveals color once kids draw on it with the magic pen.
If there's one thing you should know about the doodle mats, it's that kids don't have a choice in the colors that are revealed. More often than not, the canvas is designed in a rainbow pattern, so any drawings kids create will be multicolored. There are some doodle mats on the market that stick to fewer or single colors, but these are far less popular.
Other tools
Water doodle drawing mats may be packaged with other drawing tools or accessories. For example, tracing sets come with a variety of oversized stencils that accommodate the size of the magic pen's felt tip. There are also water doodle drawing mats that come with stamp sets, though how well they work on the doodle mat can be hit-or-miss.
Features
Mounted mats
Some doodle mats can be mounted for those who prefer easel-inspired drawing. These are usually equipped with grommets or loops for hanging, but there are some doodle mats with removable sticky backs that won't damage the wall.
While there's no standard size, water doodle drawing mats range in size from 18 x 24 inches to 32 x 40 inches. As you can see, they're fairly large, which means you'll need ample room to fully unfold the mat. For that reason, it's common for kids to enjoy coloring on water doodle drawing mats on the floor or table.
Educational varieties
Water doodle drawing mats encourage creative, open-ended play. With that said, some sets are also educational in design. The borders may feature letters or numbers to help kids develop spelling and counting skills. Other educational sets feature drawing or activity books that focus on these skills as well as drawing shapes or animals. There are also some sets that encourage handwriting practice.
Water doodle drawing mat prices
Water doodle drawing mats range in price from $15 to $40. For the most part, price depends on the quality of the set and whether it comes with accessories or tools.
Inexpensive: Entry-level water doodle drawing mats cost $15 to $20. While these sets usually have one or two magic pens, you won't find many in this bracket with additional drawing tools. Quality is hit-or-miss in this range.
Mid-range: Mid-range water doodle drawing mats cost between $20 and $30. These sets are packaged with a few pens as well as a variety of tools and accessories, and the quality is superior to that of entry-level mats. Many mats in this range have earned high ratings from toy-testing organizations.
Expensive: The most expensive water doodle drawing mats cost closer to $40 and are made by premium toy or arts and crafts companies. These typically include a diverse range of tools for drawing and tracing as well as educational accessories or themed activity guides.
Roll the mat up instead of folding it for storage. If you fold it, there's a good chance you'll end up with permanent creases across the canvas.
Consider a themed set. There are plenty of themed water doodle drawing mats on the market featuring dinosaurs, zoo animals, and ocean life.
Embrace it as an eco-friendly alternative. Owning a water doodle drawing mat can help reduce your household's paper consumption as well as the clutter in your home.

Q. How can I prevent the water doodle drawing mat from sliding across the floor?
A. Some people use a low-temperature hot glue gun to create a pattern of lines or dots on the back of the mat. This often provides enough resistance to prevent the doodle mat from sliding. If that doesn't cut it, try affixing the doodle mat to a layer of nonslip cabinet liner.
Q. What is the recommended age range for water doodle drawing mats?
A. Kids between the ages of 3 and 10 tend to enjoy these toys the most. With that said, you'll find that certain water doodle drawing mats cater to some ages than others. Those geared toward ages 3 to 5 , for example, often have borders featuring letters, shapes, and numbers in anticipation of preschool learning.
Q. How long do drawings last on a doodle mat?
A. It varies between mats, but you can expect drawings to last anywhere from 10 to 30 minutes. Keep in mind that not every kid may be a fan of seeing their artwork disappear. Other kids may marvel at the disappearing drawings and might even race to recreate images as part of an activity or game.
Источник
Коврик для рисования водой Water Magic Doodle
Аква коврик для рисования водой с водным маркером для малышей имеет размеры 50 x 58 см. Коврик двухслойный. Верхний слой плотная ткань (полиэстер – 65%, хлопок – 35%), на которую по центру контурно нанесено специальное покрытие.
В комплекте с ковриком идет фломастер. Рисовать можно не только фломастером, но и любым предметом, смоченным водой. Кисточкой, губкой. Мокрые руки тоже оставляют разноцветные следы. Сохнет рисунок в течении 5 мин. Высушить быстрее можно феном. После чего поверхность опять будет белая и готовая к новым произведениям!
Нижний слой клеенчатый (EVA 100%), чтобы при особо усердном рисовании не было луж под ковриком. EVA — это этиленвинилацетат. Изделия, изготовленные из EVA, легко чистить, их достаточно просто протереть влажной мягкой губкой, а затем сухой тряпкой.
Фломастер, который идет в наборе к коврику — это емкость, в которую наливается вода и затем вкручивается водопроводящий волокнистый стержень.
Принцип работы
На ткань методом намывки наносится вещество, которое способно быстро гидратироваться (напитывать влагу) и при этом менять цвет. В данном случае нанесенное вещество в сухом виде белого цвета, а при попадании влаги становится прозрачным. При этом нижний слой ткани, на которую оно нанесено, просвечивается. Цвет рисунка, который мы увидим, зависит от цвета ткани. При намокании просвечиваются радужные цвета.
Источник